Cloud infrastructure of the future
These days, companies usually have a mix of private and public clouds, as well as on-premises infrastructures. Future Cloud Infrastructure is part of a hybrid cloud solution to provide customers with a larger variety of services. Companies select the infrastructure cloud that best suits their needs and then manage it centrally. The result: a secure private cloud with all the features of the public cloud in terms of speed, flexibility and agility and less cost.
What is a Future Cloud Infrastructure (FCI)?
Private cloud with the look and feel of a public cloud

Agile and flexible framework based on the hybrid@scale approach from T-Systems

Software-defined data center with compute, storage and network

Multi/hybrid cloud management: VMware Cloud Foundation

Technology based on hyper-converged infrastructure (HCI)

Available in all strategic T-Systems data centers with the option of delivery from customer data centers

Access via portal or API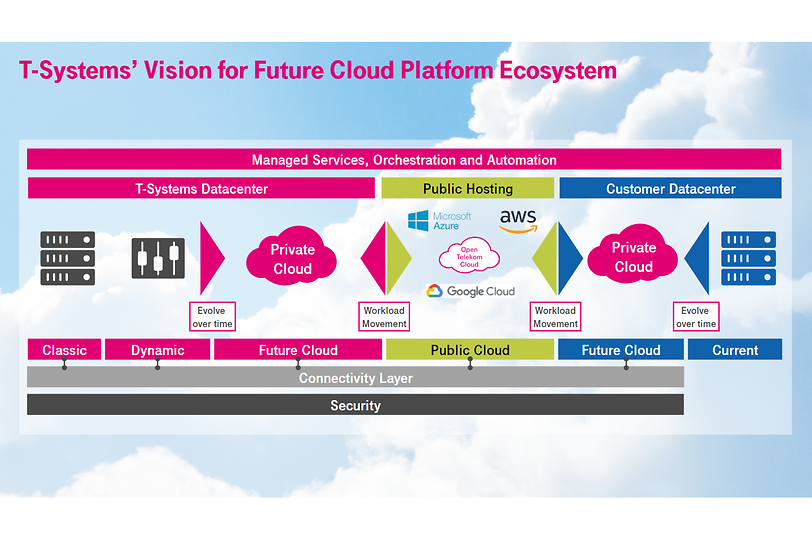 Future Cloud Infrastructure: What are the advantages?
Reduction of investment and operating costs of local and central IT infrastructure

Reduction of operational and safety risks

Scale, extend and move workloads and capacity into the public cloud

Reduction of infrastructure and application deployment times from weeks to days or hours

Acceleration of innovation cycles to bring services/products to market faster

Easier deployment due to self-service catalog and APIs to increase developer productivity

Systems are more available and more powerful, thus improving employee productivity and satisfaction



What hybrid-cloud challenges does FCI solve?
Cost pressure: A modern, automated platform enable more efficient management of new and existing resources. FCI reduces both basic management costs and cloud costs. The integrated multi-cloud cost management identifies unused resources and deactivated them. Studies estimate the unnecessary cloud costs incurred through non-transparent use of public clouds to be around 25% of the cloud budget. FCI also eliminates the vacancy risks associated with private-cloud use.
Digitization pressure: The specific interest of individual stakeholders are effectively catered to. Every user chooses the right one for them from the available pool of cloud platforms. Solid operation via private clouds is supported to the same extent as agile development projects and, if applicable, even agile operation in a cloud-native mode.
Compliance: Multi-cloud governance enables the introduction of policies that automatically map the regulatory or internal requirements for data handling. The possibility of operating it either at an in-house data center or a T-Systems data center gives users additional options for further security functions.
Complexity: The pooling of management tools on one platform and the high degree of automation resulting from software definition dramatically reduces management expense. The orchestration and integrated management make the various platforms look like one infrastructure. The boundaries between different sourcing modes dissolve.


The Future Cloud Infrastructure and its partners
Future Cloud Infrastructure is based on a strong partnership approach. Our main partners are:

Lenovo
Works together with T-Systems to deliver a fast, stable and flexible platform

Factory integrated, tested and validated building blocks delivered directly to data center

VMware certified hyper-converged infrastructure (HCI) nodes

Hardware lifecycle management – continuous refresh

VMware
Industry-leading VMware Cloud Foundation (VCF), delivering the software-defined data center (SDDC)

Seamless integration capabilities via APIs

Evergreening through continuous development and improvement

Speed and agility through integrated automation for infrastructure, applications and life-cycle management

Intel
Develop industry leading infrastructure to run applications efficiently and store data reliably

Protect the security of data through latest technology incl. new memory concepts and CPU instruction code

Constantly optimizing the carbon footprint via latest technology and architecture optimizations

Generate knowledge from data to optimize decision-making processes by making use of AI and ML
3 FACTORS DRIVING THE DEMAND FOR CLOUD SERVICES:


• 33.5% of organizations demand more agility and speed from IT (IDC 2019)
•27.8% of organizations want to simplify their IT landscapes across infrastructure and applications (IDC 2019)
• 66% of organizations see improvements to their organizational effectiveness through cloud adoption (IDC 2019)


---
"We consistently use the principles of the public cloud for the private cloud. With the Future Cloud Infrastructure, we are saving up to 20 percent in costs – to the benefit of our customers."
Martin Holzinger, Head of Business Development & Infrastructure Consulting, T-Systems
---
The challenge of hybrid IT architecture
No cloud provider offers the right solutions for every single requirement of an IT infrastructure. IT departments therefore rely on a mix of different cloud services for IT infrastructures (IaaS), development and operating platforms (PaaS) and applications (SaaS). They combine these services and supplement them with on-premises IT landscapes to create a hybrid IT architecture.
Managing all of these various solutions, service providers and platforms in parallel is no easy task. Especially since IT departments have to guarantee requirements for data protection, governance, transparency and comprehensive security and compliance. As a result, some companies choose to use the smallest possible number of providers and platforms. However, in doing so they are missing opportunities to reduce IT costs and at the same time provide IT solutions demanded by their business departments in a more agile and flexible manner.
WEBINAR MULTI HYBRID CLOUD: Delivering stability, efficiency, and cost reductions in a complex multi and hybrid cloud world. In-year savings with multi and hybrid cloud – Jörn Kellermann, Thomas In der Rieden.

Watch Webinar Recording >>
Gartner: T-Systems in the leader quadrant in hybrid infrastructures
In the 2019 Magic Quadrant for Data Center Outsourcing and Managed Hybrid Infrastructures, Gartner puts T-Systems in the leader quadrant. T-Systems is focused on hybrid cloud operations for digital business. It is in a position to offer stable, secure, and cost-efficient hybrid services that transfer legacy mainframe and ERP operational processes into the public cloud with strong private cloud service offers. This is enabled using a technology-focused approach supported by end-to-end SLAs (and not with those which are based on a single layer of technology) as well as with flexibly managed cloud engagement models, thus reducing the risks for customers. T-Systems has invested heavily in automation. SAP hosting is an important strength of T-Systems, the largest hosting provider (measured by the number of users) for SAP globally and, with 770 terabytes (TB) of HANA databases, the largest SAP system in the world. All of this is supported by the "Run on Satisfaction" guarantee, which allows immediate termination of contract at any time after the transition period. Customers value T-Systems for its alliances and partnerships, value for money, methods and quality assurance processes, as well as centralization and consolidation processes.